Nanotechnologies - General Concept for Pretty Large Amount of Pretty Small Gadgets Embedded Into Something and Consequences for Design and Manufacturing
So fashionable is this topic at these days that even the main public media outlets are speaking on this every week. Many scientific and engineering centers and professionals already jumped in the bandwagon of nanotechnology.
          As soon as we are in this business for more than two decades it is interesting also how people do understand and perform on this stage.
          The general point of view is that the Nanotechnology is when something of pretty small size is embedded into some much bigger volume of some another nature matter and becomes the agent of influence starting from that tiny scale, where the ordinary size substance or tool is not applicable or it's physical and chemical effects are of another nature because of the size mainly and onto the Upper scale. That's true to the extent of the question of how many (and what kind) of these tiny agents (devices) should be considered to apply to gain some meaningful effect(s) to the Upper scale(s).
 The answer to this question is – the huge amount of these tiny gadgets should be incorporated somehow to reach a noticeable result.
Because most if not all of these devices, agents, mechanisms or parts, are somewhat separate entities, separate from the medium in which they supposed to be embedded – so what, you can guess – this is the heterogeneous media with the few (at least two) scales. Scales can be spatial or of time of a process.
       We would like to start with the observations on the overall situation in this area as in terms what people understand and how they think it can be achieved. The comments below is necessary to explain the connections between the Nanotechnologies and the scaling HSP-VAT physics fields, those we address in this and other sections of this website.
"An Informatics Approach to Multi-scale Science
To overcome current barriers to collaboration and knowledge transfer among researchers working at different scales, a number of enhancements must be made to the information technology infrastructure of the community:";
" The collaborative creation, discovery, and exchange of information across all of these scales and disciplines are required [2] to meet DOE's mission requirements."
It is just a misunderstanding of what is the multiscaling. It is not the management and an exchange of databases. While at the same time the kind of "multi-scale chemical science (MCS) portal" should be an important instrument in the research development process, still it can not serve as a physics substitute tool. 
As we speak out in the section "Atomic Scale Description of Matter with VAT," on the "pseudoscaling" approach which mostly is being used right now just to get funding in such a fruitful field as Nanotechnologies - the following two slides from Kintech Ltd.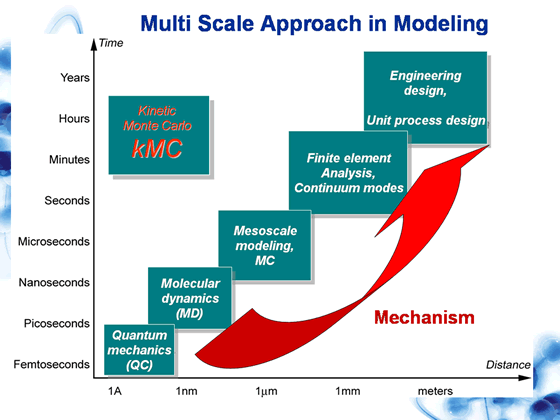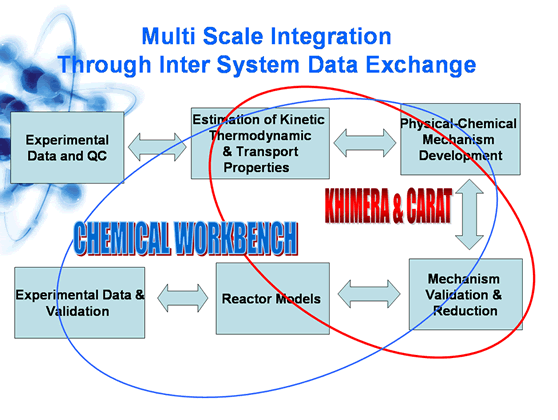 exhibit the qualitative, "verbal" understanding of this subject in most of the labs.
See some more comments in - "Bridging atomic and macroscopic scales for materials, process, and device design. US-Russian Workshop on Software Development (SWN2003)."
While to the topics of Atomic-subatomic collective phenomena scaled modeling and simulation we are addressing mostly in the - " Atomic Scale Description of Matter with VAT," in this section we turn our attention commonly to the mesoscales events as being approximately in the range 10(-8) - 10(-4)[m].
As long as the claims on "Multiscaling" continue filling out the mainstream materials science publications we will be analyzing them. Our few remarks on "pseudo-scaling" already have been posted in -